Woaah. I don't know what to say. That was more than epic.
I  arrived at home a couple of hours ago and I'm still flashed by this gig because it was something special. Yesterday morning Marcus, a friend of mine, and me started at 8.45 am to drive to Frankfurt which is 330km away from Braunschweig. After three and a half hours on the German Autobahn we arrived in Frankfurt and went to the shopping mall MyZeil to check out the Hollister store. It's the only store in Germany and we had to wait in a line for about 20minutes to get in but it's was worth it and I bought some nice clothes.
After some shopping we met with Henrik, one of the cuepoint.tv guys, to drink some coffee and to talk about music and the plans for the evening. After that we decided to meet for dinner before going to Cocoon and Marcus and I drove to our Hotel after checking out some other stores in the city.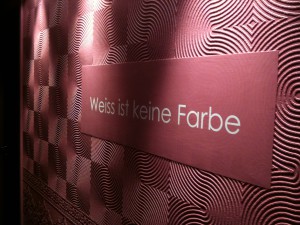 At about 9pm we met with Henrik at our nice design hotel to go to Vapiano for some food, a couple of drinks and some nice talk. Three hours later we took a cab to Cocoon and after arriving there we entered one of the most beautiful clubs in the world. It was my 5th time there but I was impressed like it was my first because the whole design of this complex is so amazing, the visuals are just stunning and the 1million euro soundsystem is just super big! It's incredible!
After going through the club and grabbing a drink we had the chance to go up to this incredible dj booth of Cocoon, which is called as well pulpit because it's above the dancefloor, and met AN21 and Max Vangeli. I was pretty surprised that Max recognized me because we only chatted one or two times in the past and it was pretty cool to see AN21 now for the 5th time this year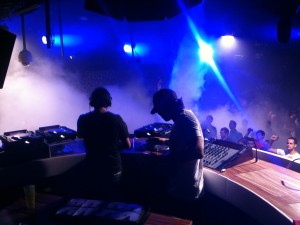 We talked a little bit before they started playing, also about the warm up which was pretty hard for a warm up in mine and their opinions, and we had some drinks with them. Max and AN21 started their back to back set at about 1.30 am. I'm not sure but I think tthe set started with "Cross the line" by Chris Lake and Marco Lysei. They played a pretty powerful set taking about 2.5 hours long including  "One" by Swedish House Mafia, "Miami to Ibiza" by the swedes as well including a vocal and their remix of "Starry Eyed". One of the biggest tracks of this evening was actually the Steve Angello, Max Vangeli and AN21 remix of "The Island" by Pendulum. Other tracks they played were e.g. "Knas", "Rave n Roll", "In the Air", their "Nothing Better" remix, "Thee Anthem" (not sure if it was mixed with a vocal) or the upcoming SIZE release "AGORa" by Thomas Gold in the original and in a remix version as well.
They also played some unreleased stuff, one of these could actually been a tune by them but I'm not sure about that..maybe I'll find out
They also played some unreleased stuff, one of these could actually been a tune by them but I'm not sure about that..maybe I'll find out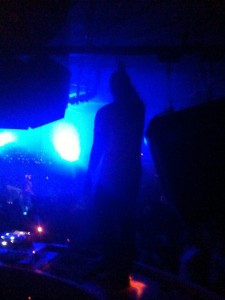 I guess Max and AN21 really enjoyed the gig because it seemed like they had more than fun behind the decks and they did some funny stuff as well e.g. Max jumped on the booth and motivated the crowd!
During the set Marcus and me had the chance to take a picture with Max Vangeli which was pretty cool. I also have to say that I really like every picture the guy of Cocoon took.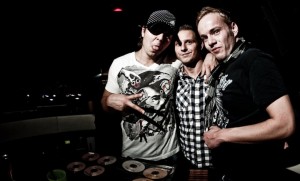 They finished their set with the new "Swedish Beauty" remix which is, like AN21 confirmed it, by Moguai.
Standing on the pulpit was such a good experience because you could see the whole crowd and the whole effects from where they're coming from. I really enjoyed it. We also tried to do some pictures but it wasn't allowed with a good camera so I took some with my iPhone. Hope you'll like them.
Thanks to AN21, Max, Henrik and Marcus for this nice evening and also to Denis! I definitly had a blast and the trip was more than worth it.