On Friday, 16 September,  it was time for my first trip to Stockholm. Actually it was also my first visit of Sweden and it the journey was really good – musically and in the view of a typical tourist.
At 6.30 Marcus, Torben and me drove to Berlin to fly to Arlanda Airport where we arrived at about 12.05 o'clock. After checking out which is the cheapest bus we arrived at the central station of Stockholm at 13.30 and went to our hotel which was pretty close to the station. The Freys hotel is a small 4 star hotel near the T Central and close to the pedestrian are. Actually everything we wanted to check out was pretty close ;)
After checking in, we walked through the city which is really beautiful and did some window shopping and – of course – sight seeing.
In the evening we me with Henrik of Cuepoint and a friend of him and then went to a pretty nice restaurant called  "Ett litet hak" were we talked about the upcoming Axwell gig, music and some other random stuff. The food there was really great, I took the selfmade Tortellini but the meat and the fish looked also pretty good. You might check it out if you're in Stockholm :)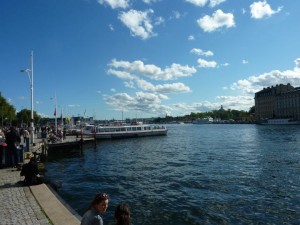 Later we went to the bar of the Story hotel, which seems to be a pretty cool design hotel. The interior of the bar was also really stylish  and the atmosphere there was good as the played some deeper stuff like "Hamburg is for lovers" by David August etc. As Marcus and I were to tired for party we went to our hotel while Torben decided to party ;)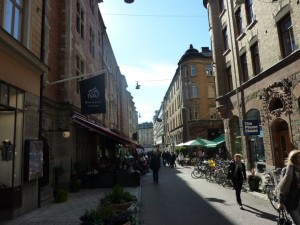 On Saturday we visited the city for another time and we had real luck with the weather because it was about 22° and you couldn't see any clouds on the sky. We just enjoyed the city, drank some coffee and took some pictures and in the afternoon we went back to our hotel to relax as we wanted to be 100% ready to celebrate and enjoy Axwell in the evening. At 9pm, after some Vapiano dinner, we met with Torben and a friend of him and drove by Taxi to the venue. The driver somehow thought that we are rich so he decided to take an exorbitant price for a 5km long tour but we didn't know so we paid him about 500 Krona. Later we were told that this was really high -.-
Enough crying, let's talk about "Where's the Party" by Carlsberg which took place at the Stockholm Cruise Center Frihamnen . When we entered Dimitri Vangelis and Wyman just finished their set at the entrance floor and Sebjak began to play in the back, at the main stage which actually was a little stage just on front a canvas which hid the big booth and the LED walls . Sebjak played a couple of IDs, his remix of "Bang" by Richard Grey and Robin S or Norman Doray's latest single "Kalifornia" just to name a few.
The venue itself was just a big hall – a cruise center like the name says ;-) – seperated in two different areas and equipped with a lot of technical highlights like the Function One soundsystem, huge LEDs or C02 cannons.
About 2 hours after Sebjak started the Where's the Party countdown began and Axwell started his set with the "Heart is King" vs. "Flash" vs. "Losing my religion" bootleg which is one of my favourite bootlegs at the moment. With the beginning of Mr. Hedfors set the whole effects showed their power and the LED walls and the co2 cannons combined with the music caused a lot of goosebumbs I guess.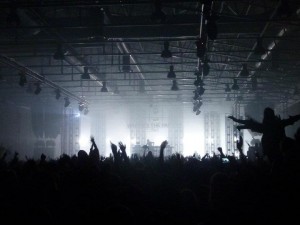 As we had some issues with getting wristbands we had to stand in the masses which is absolutely ok but just when Axwell started more and more people went into the big room and it was kinda overcrowded so we decided to go to the back to enjoy the event and not to fight for breath while standing in the masses.
The hightlight of his set was probably when he played "Levels" by Avicii with the vocals of "Something gotta hold on" and the crowd was just going nuts and celebrating Avicii's  catchy and beloved track. In general, Axwell played a really good set and tracks like "Sending my love" by R3hab and Swanky Tunes ft. Max C, "Resurrection" by Michael Calfan with the vocals of "Together" by Axwell himself and Sebastian Ingrosso, "Calling" by Ingrosso and Alesso or the Thomas Gold remix of "Judas" by Lady Gaga.
Axwell also played "Save the World" and as a special guest John Martin came on stage and performed it live. To be honest his voice didn't sound that well and I'm still not a fan of this Swedish House Mafia single but the masses love it, that is for sure.
All in all played a lot of mashups and edits – Axwell edits FYI :D :D – and it was definitely a very good and big experience but I also expected that Axwell would play some IDs or tracks he didn't play for a long time like "Centre of the universe" which is still one of the songs I have to hear live.
At 2.20 Axwell finished his set with "Leave the world behind" vs. "Reach out" by Sander van Doorn and the big show was over. Dimitri Vangeli and Wyman took over for the last 40minutes and after waiting outside – it was 10° C – for Henrik who was already on his way to the T-station Marcus and I took the shuttle bus and went back to our hotel.
On sunday we didn't do something spectacular, just some window and typical Swedish food shopping but in the evening we met with 2 friends of us at Vapiano for a really nice talk about SHM, music in general and of last nights gig.
4 hours later we decided to go and on monday we just had some breakfast at our hotel and then met with Torben, who stayed at another hotel, at the City Central stop and took the bus to Arlanda where we took of at 12.45.
In conclusion this trip was good in different ways. It was really cool to see Axwell live for another time, Stockholm is a really beautiful city which I will definitely visit again and the dinners and conversations with Henrik, Petter and Mattias were also interesting and funny.
I also brought a present for you guys. I had the chance to get a review sample of the WeSC Bassoon headphones and the review of them will be online next tuesday. Thanks to Patrick of WeSC who left them at the hotel for me :)
//Tobi
P.S. Do you know Jan Tauer? :D