This saturday, 15th of January, the upcoming Finnish duo Something Good had their first gig in Germany and they really really smashed it and I'm pretty happy that it worked out!
We arrived at the lovely Roneburg where Dance Couture took place at about 11.30 pm and it was already pretty full, the warm-up djs spin some good tracks and at about 0.15 Something Good arrived at the club and we had a lil talk about the location, if they're excited and about their set of course. It was a pleasure to meet Otto and Karolus, I mean I did an interview with them before via mail and I still like the answers because they were so it was something special for me :)
At about 1.15 they starting playing and I barely can't describe how powerful their set was. I surely expected a good set due to their releases and their pretty nice mixes but they really smashed it and the crowd really liked them as well. They spinned a lot of nice edits e.g. their UU Island remix of "Solence" with the vocals of "I found U" by Axwell and Max C, a edit of "Good Times" featuring the original one, a "All Night Long" bootleg which is originally by Lionel Richie, an edit of "Enjoy" by Reboot and a massive mash-up of "Niton" by Pryda/Eric Prydz and the vocal of "Can't get enough" by Soulsearcher (by the BeatThiefs).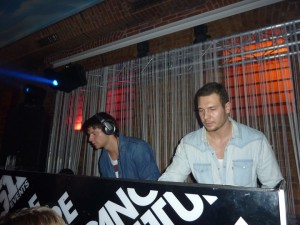 Sure they not only played special edits but I haven't heard so many nice ones in a set before! Some normal tracks were their remix of "Intro & Ending" by Malfankson, "Past Dreaming" by Funkagenda, Ned Sheppard & Sulta, "Live Your Life" by Eddie Thoneick and Erick Morillo or the 2010 version by Daddy's Groove of "Diamond Life".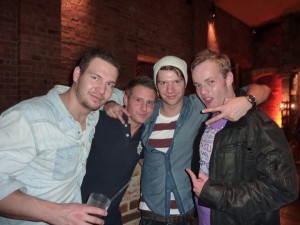 As  you can see they played a really cool set and they were technically very good as well. Thanks to Dance Couture for booking them, it's good to see promoters supporting upcoming artists like they already did it with Avicii before he was that big. I hope that Something Good will now get some more gigs in Germany, actually in whole Europe, because they really deserve it. They're down to earth, really nice guys and their dj set was as hot as their productions.
To get an impression how cool it was I added a youtube playlist with the videos I took but not every video is online so far, so check the post another time or just follow my youtube channel to see the other videos as well.
In addition to that I also added the video by Something Good which is a summary of their trip and the gig ;-)

All in all it was a great evening with an amazing housy set by the guys and I'm still kinda hyped! :)