Celebrate Life – that was the slogan of Sensation 2010 and yes, I did :-)On the NYE morning I started driving from Braunschweig to Hannover to pick up the other 4 guys. As the weather was really bad the days before I was kinda happy that the whole Autobahn wasn't icy or only the left strip was full of snow so it wasn't the problem to get there. After ~ 350km and some nice mixes on cd (e.g. Something Good – This is 2010) we arrived at our hotel, the Innside Seestern, in Düsseldorf.
The whole hotel was very stylish and like you can see on the picture below the shower was in the middle of the room – a lil bit porno style I would say.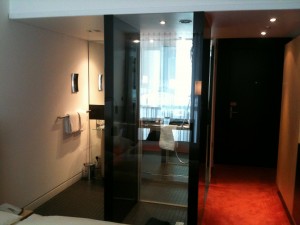 We were actually 12 people which took the journey from Braunschweig/Hannover to Düsseldorf and after we had our lunchbreak at Subway the last ones of us arrived.
After a short nap, some tv watching and the worst pizza I've eaten for a long time our preordered cabs arrived at the hotel. 15 mins later we arrived at the Esprit arena. It was pretty cold and we had to wait for the rest because their driver stopped at a different stair so I can tell you that only wearing a shirt and no jacket wasn't the best idea but it could be more worse – believe me ;)
In the arena Mr.White was already warming up the crowd and we were first only standing on the terrace but we had to get into the crowd below which wasn't as easy as it sounds. We had to wait for about 20mins to get there but it was definitely worth it. You might expect that this huge dancefloor was full of thousands of people and that it's hard to move there but believe me it was really good coordinated and everyone had room to dance and celebrate life!
After Mr. White Richie Hawtin, the techno legend, played his set from 10.40-11.58. When he dropped his first track the curtain which hang around the dj booth on top of this pyramidesque stage felt down and the booth began to rotate. I enjoyed his set but maybe it would work better if he had a later spot.
A couple of minutes before 12 the new years countdown began. It was actually some shouts by MC Gee and Avicii's track "Bromance". The atmosphere during this countdown was really cool and when it was 0.00 the whole crowd began to scream and fireworks started.

After the celebration of the new year Sebastian Ingrosso entered the dj booth and startet with "Miami to Ibiza". He also played tracks like "Teenage Crime" or "Nothing but love" by Axwell,  a "Silvia vs. Pjanoo vs. U don't know me" bootleg, the "Otherside" remix by Funkerman and the worst track I've ever heard. Sorry but I still can't believe that he played a remix or a bootleg of "Dynamite" by Taio Cruz. It's just so damn commercial and bad. And all in all his whole set was like most of the sets SHM has played during the season. I'm really disappointed.
Then "The Mix" took part which I enjoyed from the terrace. The effects which sourrounded the music were really amazing and then I first realized how big this whole stage it's design was. It's a brilliant masterpiece and the effects were absolutely memorable. After being to Brixton in May I thought I saw a lot of effects but this was surely a higher level (for sure Sensation events are a lot bigger as the Brixton Academy). But there weren't only machines doing the show. There were also some people on the terraces doing effects with huge green laser pointers or throwing big glowing "waterball" into the crowd. As you can see Sensation is a really huge and comprehensive event with a big concept.
While Fedde Le Grand started his set we decided to go back on the dancefloor. Now it was pretty easy to get there, the rush abate and we didn't have to wait. Fedde's set was good as usual. He played the "Rocking High" remix by Nicky Romero, the latest "Back & Forth" version, a special edit of Paul Kalkbrenner's "Sky and Sand", "Otherside 2010" by Funkerman and of course his latest remix of "Missing" by Everything but The Girl.
Funkagenda was next and you can believe me he really rocked and I was absolutly surprised by him. Maybe it was because of listening to Adam the first time. Starting with a very cool intro and "Reaver" vs. "We are your Friends" bootleg his set began powerful. And it really didn't lose any of it's power. Actually it was getting bigger and bigger. A special track for me was the Mark Knight remix of "You got the love" by Florence the Machine which I haven't heard in a club or at a party before so I really enjoyed and celebrated this tracks. Other tracks he played while the crowd was going wild were "Past Dreaming" his production with DJ Sultan and Ned Sheppard, the "Sweet Disposition" remix by Axwell and DirtySouth, an undiscribable version of "" and a special version of "Flashback" by Calvin Harris which was his last track.
http://www.youtube.com/watch?v=AZ-6JyVpsTE
Last but not least were Mr. Joris Voorn and 2000 and One who had this special "God is A Dj" intro which caused goosebumps on my arms. :)  They started playing at about 4.45 and played tracks like Joris Voorn's "Beachball" remix, his remix of Goldfrapp's "Believer" and some other stuff. There was also a track whose meldy could remind you of "Barba Streisand" or the songs which used the same sample before. It was catchy but different. I can't describe it but hopefully it's in the podcasts :). It's the "Stars on 45″ remix by Addy Van der Zwan.
Sorry about not knowing every track but I wasn't that receptive after being hyped the whole day and celebrating this event but I can tell you they did a great job and I would say that this set would be place number 2 if I had to do a charts ;)
15mins before 6 we left the Esprit Arena and thought it wouldn't be that hard to get a taxi outside. WRONG. Like you maybe recognize I only wore a shirt and we waited 30 or 40 minutes and tried to get a cab but after one cab driver wanted 10€ for each person which would have made 50 € – the rest of the group left at about 4 and no I don't understand how you can do this – for a route which normally coasts about 20 euros  we decided to take the tram and got off it in the city of Düsseldorf where we finally get a taxi. Arrived at the hotel we only went to bed. At 2 pm we left our hotel and I drove us back home. Tired but still hyped and happy!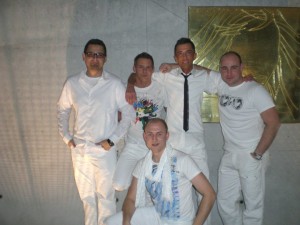 All in all Sensation – Celebrate life was epic. It was my first time at a Sensation and I really enjoyed the whole show. The sets – except Sebastian Ingrosso's –  were  the whole atmosphere was indescribable and unbelieveable. I'm really thinking about going to Sensation in Amsterdam or the next one in Düsseldorf. Sorry that I didn't put that much footage in this review but my phone broke down at 0.30 but I hope you will get a good insight of this event and how I experienced it.
During writing this review Sensation announced the official download links for the sets. You can grab the podcasts via iTunes or RSS-Feed.