After I tested the Aureol Groove inears by Teufel I tried to get some pretty dope overhead headphones and with the Sennheiser HD 25 1-II in the Adidas Originals version I found a pair which is being used by a lot of djs for playing live or producing tracks while being on the road.
First of all I have to thank Sennheiser Germany for sending me those headphones. They arrived in a total new and unopened box in the Adidas Originals design. As I am a fan of the Adidas version I was really happy that they gave me the chance to check out those stylish headphones.
The box contains of course the headphones, a little bag for carrying them, another pair of white and soft ear cushion and the adapter to ¼" (6.3mm) stereo jack plug.
After unboxing the headphones I immediately tested them out. I first checked them on my iPhone with some older tunes like "Muranyi" by Pryda or some stuff I heard in 2009 like "Flonko" by AN21 and Steve Angello or "Good Times" by Funkagenda and Mark Knight. My first impression was that the quality of the sound is pretty good. The bass sounds proper and the treble is crystal clear.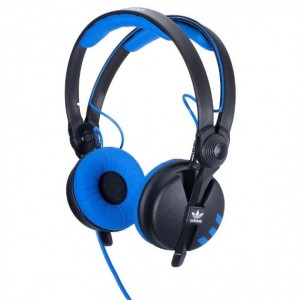 A first impression is always important but checking those quality headphones only on a phone wasn't enough so I tested them out on my book and my stereo as well. The  result was actually the same and the more I tested the Sennheiser HD 25 1-II the more I felt in love with them.
Besides the stunning sound, which is good for live deejaying and of course producing, I also took a look about the feeling while wearing the headphones. As I'm a person which feels pretty fast uncomfortable with typical headphones on the head I have to say that they are everything but not annoying. I really did a hard test while wearing them constantly about 5 hours and they never seem to be too tight.
Another big point speaking for the HD 25 1-II is that the closed back design really keeps out all the noise of your sourroundings so you can really focus on the tracks and sounds you are listening to.
For those who like reading some technical data:
– ear coupling: Supraaural
– frequency response: 16 – 22000 Hz
– sound pressure level: 120db
–  Impedance: 70 Ω
– cable lenght: 1.5 m
– connector: 3.5mm angled
All in all those headphones have a brilliant sound, you can wear them for a long time and the quality is just ace. The only minus I could found was the price. The more trendy Adidas Originals version of the HD 25 1-II are about 249 € and the normal version is available for about 180 €.
Another information I wanted to give you about Sennheiser is that they're doing a pretty cool "stage" on a festival in Hannover which is called "SilentNoize Disco" where the people are wearing headphones to enjoy the music instead of a big soundsystem which is making a lot of "noise". If you're from Germany and like this idea, here's the link to the Bootboohok festival.
Tobi