It's been a while since I've been back from the wonderful Island aka Ibiza but I promised to write a review about all the good things that I experienced during these 7 days.
Before my flight to Ibiza I had a pretty big plan in my head where to go but honestly it's really hard to attend to every huge party as there are too many of them, so I decided to pick just a couple, maybe 1 or 2 too less but all in all it was enormous.
Thursday, 4th of August, in the middle of the night, 4.35 am, our plane took off from the Hanover airport and at 7.05 we arrived at the airport of the mystical island, Ibiza. The first thing I saw on the ground was Fedde Le Grand's private jet and that was the point when I started realising that I'm finally back.
During the first days, I somehow wasn't in the party mood as I was thankful to enjoy the sun and laying near the pool but  after this holiday I'm a little sad that I haven't been to the BBC Radio 1 party at Ushuaia or the Swedes at Pacha.
Sunday, 7th August – Vagabundos at Pacha
The first party I went to was Vagabundos on the 7th August at Pacha. I expected a nice tech house evening and when we arrived at Pacha at about 1am I was kinda shocked because there were not many people around there. In the mainroom Michel Cleis was warming up the crowd and after him Mr Fingers started to play. To be honest Mr Fingers set was nice but it, in my opinion, didn't fit to Michel's and also not to Luciano's set, who started at 3pm after him.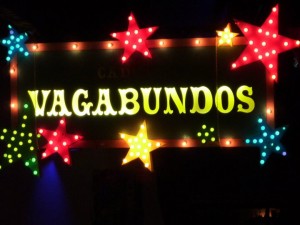 When Luciano started , Pacha was really packed which I didn't expect when we arrived at the doors, and the crowd surely went nuts. A lot of people were dressed or wore the typical Cadenza make up and to give the crowd a more uniform look they issued some hats.
They vibe was really crazy, everyone was celebrating pure tech-house and it was absolutely a worth trip but as there were a lot of people it was pretty hard to dance and celebrate as you could barely move.
We also went to the Global Room, where I've seen and listened to the sound of Robert Dietz. The "Cadenza Lab", as they call the room at Vagabundos, was packed as well and the crowd was also celebrating amazing tunes.
At 4.15 am, not sure actually, we already left because we were super tired and this was maybe a fault because the party was really great but even this "short" visit at Vagabundos was superb but in the mainroom it was definitely too hot. Pacha you need an air conditioning system :)
Tuesday, 9th August – Eric Prydz and Eric Prydz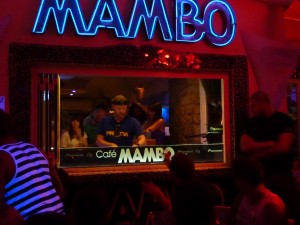 After one more relaxing day, the tuesday was well planned. After dinner we took the bus to San Antonio to go to the pre-party of Eric Prydz at the beautiful Mambo. We missed the sunset and Eric was already playing when we arrived but I took a lot of footage. Actually it's 22mins long. He played tracks like "Rakfunk", "Melo", which is one of my Pryda favourites, "2night" and of course "Pjanoo" but you better take a look at the video. Thanks to Tillie Wood for the nice place just behind the booth :)
After Eric was finished we just stayed for a couple of minutes at Mambo and then went straight back to the bus stop to pick the bus back to Ibiza town. After arriving at our hotel in Figueretas I changed the battery of the camera and about one hour later we went back to Ibiza town to take another bus to Amnesia. Arrived at Amnesia at about 3 am I was kinda angry because Amnesia posted on facebook that Eric will play from 4 till 5.30 but he was already playing at the terrace. Of course I enjoyed the last 30-45 minutes of his set and the cube show combined with the brilliant tunes was an unbelievable event. It's really hard to describe how good the combination of visual elements on those cubes and the music is and of course I expected a lot because many people told me about it but it was actually way better. You might get an impression if you check out this video:
After Eric Prydz M.A.N.D.Y. played at the terrace and we finally had the chance to check out the the whole spot as it was my first time there. What I really enjoyed was the CO2 cannon on the terrace which caused a lot of cold smoke.
To be honest I just took a short look at the mainstage just before leaving because Dubstep and Drum and Bass was played there which is definitely not the stlye of music I can enjoy or celebrate to but the entire area was an eyecatcher with it's huge LED walls.
This seems to sound like a really memorable and big day but not everything went well. After leaving the club we just saw that a bus of the right line was standing at the bus stop in front of Amnesia, so we took it. When everyone was in the bus, the driver started the engine and after 150m on the road we realised that we took the right bus number but the bus was driving to San Antonio and not to Ibiza town. Wrong direction :( So we had to drive to San An and waited 20minutes till the next one was driving us back to Ibiza town.
Wednesday, 10th August – Swedish House Mafia party at Ushuaia beach hotel
Wednesday was our last time on the island and of course I had to go to Ushuaia, which became the spot on the island during the season and I only can undersign that.
The Swedish House Mafia couldn't play there as they went to Croatia to play at Pag island but with AN21, Norman Doray and Moby, the line-up was pretty big too.
I arrived at 8.45 pm when Norman Doray was playing his last 3 or 4 tunes so actually the first thing I did after entering the venue was taking the camera out and recording some footage for you. He played, for example, a nice bootleg of Sander van Doorn's "Koko" with the accapella of "Good Times".
Some minutes past 9pm AN21 took over control and started with his starter, the "Valodja" remix by Riva Starr. His set was maybe typical for him but actually I didn't focus on the music this time, I more focused about the whole spot and soon came to the conclusion that this poolside stage with it's huge effects is probably one of the most memorable venues where I've been to in my whole life. I know words are easily written but I think you can understand my point of view when you've watched this video of An21 playing at Ushuaia.
When AN21 was playing his last track, "People of the Night", the music turned immediately off because some mistakes happened while Moby was taking over but the crowd just celebrated the night and seconds later Moby started his set. He played a couple of his succesful tracks like "Diso lies" or"Raining again" but  this evening I was absolutely flashed by this poolside stage and its effects that I barely can't remember all the tracks of the night.
After the gig I left the VIP area where I stand – thanks to AN21 and Ozgur – and just walked behind the stage into another room on the left inside the Ushuaia which was a little club. There I had a couple of drinks with Ozgur and Norman Doray, talked to some other nice guys from Sweden and also had the chance to take a photo with Norman and Moby.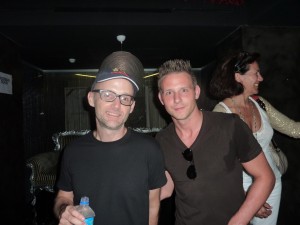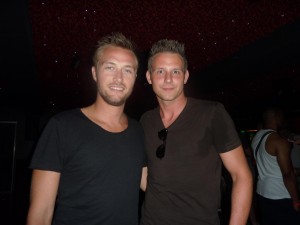 While chatting to Norman I also sorted out the next interview for you guys and I'm already working on the questions to give you asap a fresh interview with the french surfdude ;-)
All in all this holiday was a very good mixture of music and relaxing in the sun and if you have the chance to go to Ibiza during the last weeks of this years season, if you are on the island right now or if you are already planning your next years vacation you definitely should check out Ushuaia as it was really one of the best places I've been to.  Another must is definitely a warmup party at Mambo in San Antonio where you can enjoy your favorite djs playing for free and enjoying the beautiful sunset (which I missed :-( )
Hope you enjoyed reading :)
Tobi