Time for the first interview on toblip.com
I'm introducing you the most successful producer and dj from Finland, Heikki L.
toblip: Hey Heikki, thanks for doing this interview with me. Most of my readers – I think – don't know that you're in the business for many years and also had some international hits under the name of Dallas Superstars with Jaakko "JS16" Salovaara so please tell us something about you and your musical career.
Heikki L:

Yeah I am the grand old daddy of the game!
I bought my first ever decks when I was only 13 years old and then couple of years later I bought my first synthesizer and pc and I was hooked. When I was 20 years old I started a band called Moovon. It was me making the music and Mc Stii taking care of the vocals. We were signed to no less than Sony Music Finland. I remember us performing at sold out Olympic Stadion it was some kind of charity happening but it was something crazy for us.
Then I met JS16 and began to work with him. We were digging same kind of music and created few project like Hi-Tech which we signed to Ministry Of Sound (Germany) and then came Dallas Superstars. Dallas Superstars did two albums and a bunch of remixes. We were signed to Stockholm Records and there was nice hype around us.
At the same time I was working with Alex Kunnari our project name was Modulation and it was signed to Paul Van Dyk´s label Vandit. Supermodels From Paris come after all these and the only single "Keep On" was signed to Anjuna Deep and was heavily spinned by top dj´s around the globe. After all these project I thought it was time for more permanent artist name and I decided to start using my own name Heikki L (Liimatainen).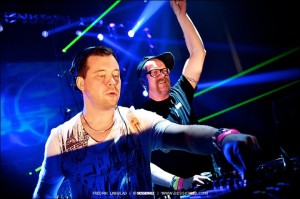 toblip: Mentioned before you're in the business for a long time. Which is the most important record for you?
Heikki L:

Oh my Gosh, this is always the hardest question to answer… I don't have one specific record to name but these tracks have all been very big in my life:
The KLF – Last Train to Transcentral
The Sound Design – Bounce to the Beat
The Shamen – Ebeneezer Goode
I grew up by listening all those big records by then.
During those days you didn't have internet where you can nowadays find almost everything..so you had to listen to radio and try to catch up those new tracks from there and then order them by vinyl from London.
Oh those were the days..
toblip: One of your latest release was a remake with JS16 of "Deeper Love" originally by Aretha Franklin (1994) on Confidence, a sublabel of Spinnin. First of all in my opinion it's a cool remake but what was your ambition of doing this?
Heikki L:

We were just jamming and playing with some new synths at JS16´s studio and came up with those big beats and that cool piano riff. Few days before that I´d been working on with a mashup where I was using Deeper Love acapella. I played it to JS16 and we found that it went from the same key than our new track so we dropped the acapella on our track and it worked really nice. Then we contacted dudes in UK and asked if they could redo the acapella so we could license the track without using that illegal acapella. They did it and we paid our ass off for that :) Actually they did really good job its so hard to tell which one is better the original or the new one.
toblip: I know that you did a new single with Something Good during the last days and that you're working on a new remix for Sunrise Avenue. How would you describe those tracks so far and what else can we expect from you in the near future?
Heikki L:

I´ve been doing music earlier with Yotto (one half of something good) but this was the first ever time I was working with Something Good as a duo. Guys are nowadays working in the same studio as I am (HelsinkiVibe) so this thing started very naturally. I had some beats and that breakdown and both guys were digging it but I was lazy and didn't get it further so I asked SG if they would like to take it further. They did some cool beats and added some nice chords and gave those to me and I took it from there then a bit later we sat down together and finished the track. I have to say that it became a really nice song and we definitely will do some more co-works.

Sunrise Avenue is releasing a new album soon and their first single will be "Hollywood Hills" and they asked if I could do a remix for it. This was actually the third time when they turn to me with their album opening single which is quite honoring. This time the job was a bit hard because the chorus which I intended to use started wit a major chord which is quite rare in club music but with a little help of our Helsinkivibe´s Mr chords and melodies aka Lovetone we managed to turn it to commercial house smash! Keep your eyes on Lovetone, I´m telling you he is the next Axwell from Finland!
toblip: Like mentioned in an interview I did with the guys of Something Good Finland isn't really famous for house. How would you describe the scene in Finland?
Heikki L:

Electronic music scene in general in Finland is really small if you compare to UK or middle Europe. Our biggest thing is Rock which is sad, but I think it´s changing slowly now when those big names David Guetta and Tiesto are making house music more popular. Trance was the biggest electronic music thing a ten years ago but nowadays house music is coming strongly. I think the electro house thing was the first ever house genre which breached thru on normal night clubs here in Finland.
toblip: Where did you play so far, where would you like to play and which was the most important or your best gig?
Heikki L:

I play quite a lot around Finland. We don´t have that many "big name dj´s" here in Finland so I am kind a lucky to have a name to get some gigs around the country. We have our regular Danceteria club night once in a month also I´m playing all those bigger events like Laserpoint, Pacifique, Love etc. Also I´ve been warming up Erick Morillo, Axwell, Sebastian Ingrosso, Pete Tong, Eric Prydz to name a few. In the future I wouldn't mind playing more outside Finland.
toblip: What kind of equipment do you use for productions?
Heikki L:

These days I do most of my productions inside my Mac Pro. I´m a big Logic fan, been using that software something like 10 years now and its only getting better and better all the time. For recording vocals and some instruments I have Universal Audio´s pre-amp and SE Electronics Gemini II microphone they seem to work very well together. My sound interface is Apogee Ensemble which is the top of the line and I love its sound. Also I have tons of plugins but most often I use waves stuff. It´s so crazy that these days when you can do everything inside your computer..I hardly remember times when there wasn´t such a thing like softsynth, your computer was just running your midi sequencer.
toblip: There are still some djs not using earplugs while they're playing. Do you use them? In my opinion they're a must!
Heikki L:

Yeah offcourse I use them! I´ve been using them a looooong time. Now I´m having -9db filter which I think is the perfect when you are djing. You can still hear the music well and you don't have to kill those monitors.
To get my work done I need me ears and I have to protect them. I have read some horror stories about tinnitus and I think its more dummies who don't protect your ears. (Yeah Otto this one is for you..:)
toblip: A typical question but what would you have been if not a musician?
Heikki L:

I believe that I might be doing sound designing for films or something else related to audio. One other option might be doing some video stuff. I´m a creative person and I like to get things done otherwords I don´t want to be stuccoed too long time.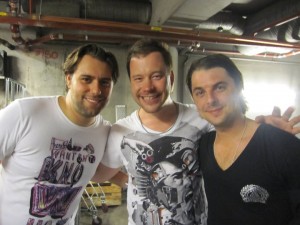 toblip: What are your hobbies and what is a good inspiration for you?
Heikki L:

Summertimes I like to play golf. It´s a great way to get your mind out of the work and it also helps you to control your mind. I also like travel a lot and if I end up to somewhere warm I try to do some scuba diving.
toblip: I also know that you're running a club in Helsinki which is famous in the whole country for it's parties. How important is running this club for you? Is it something like a motivation or an inspiration for you?
Heikki L:

I was organizing my first club nights when I was only 17 years old..We used to have those illegal ware house parties at Rauma (the small town I was born) when I moved to Helsinki I thought it would be really cool to do something similar here and then one day I met Mr A at our studio. He was working with Miika Kuisma during those days but suddenly we found ourself digging the same music and the rest is history.
So yeah nowadays I´m running a monthly house night called Danceteria with my good fellow DJ Mr A. We have been doing it now for something like 5 years. Danceteria is one the biggest club brands in Finland and we are always trying to keep it fresh. Its great when you can try your new track over there and it also helps to get connected with foreign dj´s when you book them to play at your parties.
toblip: Your recent top 5 tracks are?
Heikki L:

1. Heikki L & Something Good – Benirras
2. A.D.S.R. – Deep In The Gongo
3. Prok & Fitch – After The World
4. Rene Amesz & Jasper Clash – Tabimo
5. Story of Rapture (Heikki L Mashup)
To get an impression of a typical Heikki L set I added you his latest mix:
For more details about Heikki L check out the following sites:
http://www.myspace.com/djheikkil
http://www.facebook.com/djheikkil